TURBOCHARGER REPAIRS
Turbo Dynamics offer a competitive turbocharger repair service starting from just £195.00 + VAT!
We can also carry out wastegate repairs too!
With over three decades in turbo remanufacturing, Turbo Dynamics have the necessary facilities, cutting edge technology and industry experience to service, recondition, upgrade and repair all makes of turbochargers, and offer impartial turbo optimisation advice and solutions.
Our ISO accreditation is BS EN ISO 9001:2008 which ensures you will receive great product and service quality, combined with 1st class customer service - Quality Without Compromise
How Does The Turbo Repair Service Work?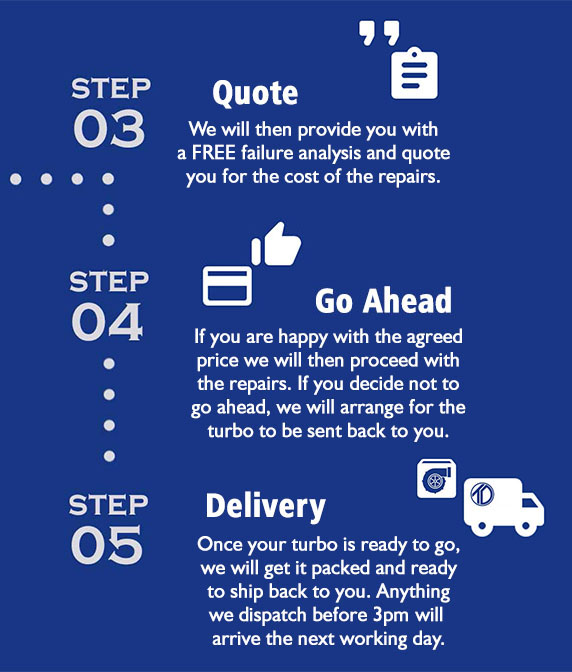 Frequently Asked Questions (FAQ's)
What's included in the starting price of £195.00 + VAT?
Replacement of all new journal bearings, seal rings and a complete service overhaul. It also includes a complete blasting and cleaning on all reclaimable parts.
Can you diagnose the issue I have and then take the turbo off my car?
If you have any questions or need assistance, please feel free to ask and we will do our best to provide information or guidance to help you. However, for hands-on tasks like removing the turbocharger from your vehicle, please use your local garage.
How do I get my turbo to you?
Please use a reliable courier/parcel service. When sending your turbo to us, please make sure it is securely packaged to stop it getting damaged in transit.
Can you give me an accurate repair quote over the phone or by email before I send it to you?
We need to see your turbo in person, so we can strip it and assess what work is required. Once we have done this, we can then give you an accurate quote. If you do not want the work to be done once we have quoted you, we can send the turbo back to you.
While you are repairing my turbo, can you upgrade it for me?
This can be carried out to your existing turbo from £495.00 + VAT and because we are market leaders in hybrid turbo technology, you can be sure that not only will we bring your failed turbocharger back to life, it will be better than ever!
What's the turnaround time?
Our turnaround time from receiving your turbocharger is roughly around 3 to 5 working days. This varies depending on seasons and how busy we are in the factory.
Can I drop off a turbo?
Yes, come on down. If you're local to Christchurch or the surrounding area you're more than welcome to drop off your turbo at our headquarters. Please visit our Contact Us page for directions and our address. You're more than welcome to collect your turbo once you've received a call to do so.
Are you ready to send your turbo to us for a service or repair?
Simply fill out the repair form below now!
Still unsure? If you would like to ask a question regarding our repair service, please click here